"And in the end, the love you take is equal to the love you make." Beatles, Abby Road 1969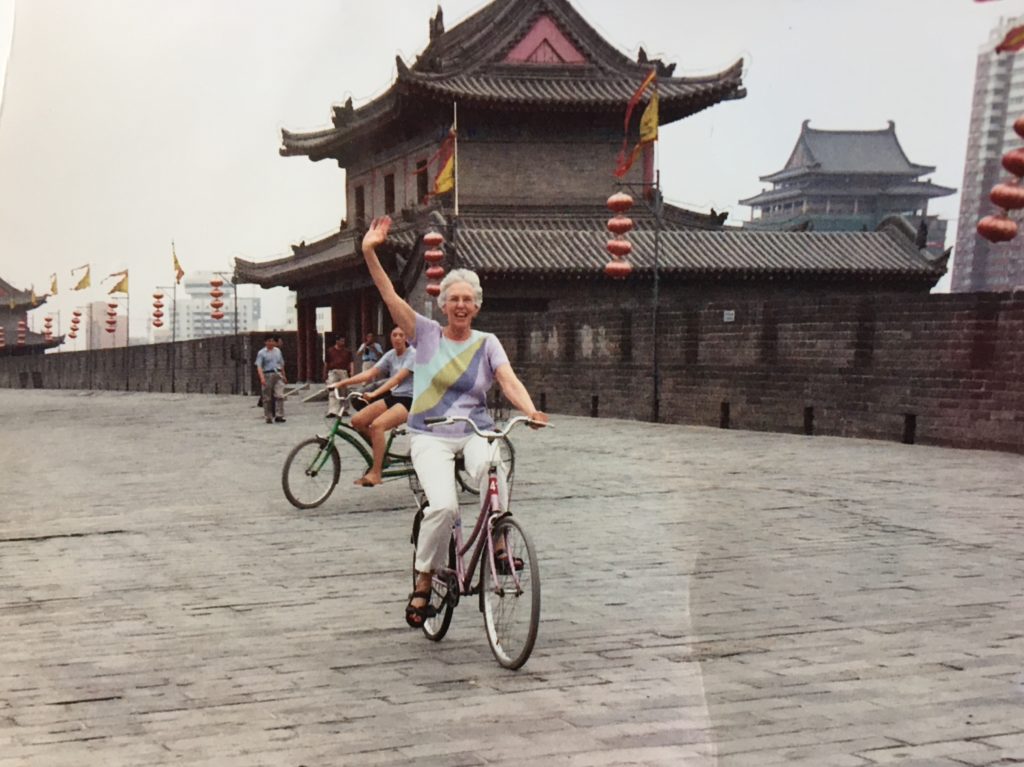 On Thursday, March 14, 2019, Mama got her wings. I awoke with a start at 6 am that morning, knowing I needed to get back to her side as quickly as possible. On the way there, a DJ on the radio announced that it was National Pi Day. I knew immediately that she would leave us that day. She was a life long lover of pie and would love the idea that we would always think of her when eating pie. Dill Pickle Day would never have worked for Mama; it had to be Pi Day.
She died at 6:30 am and I arrived fifteen minutes later. I got to sit and hold her hand for awhile, which was still warm and finally open enough to hold easily. Her hands had been clenched in fists for the past two weeks during her final journey. I was grateful that she was at peace and no longer struggling.
For the past month, I had been planning her 86th birthday party for Sunday, March 24th. Her birthday was the 25th. My siblings and my Mom's sister, Nancy, and Mom's dear friend Becky, were flying from all over the country to attend. Many of our neighbors and friends were also planning to join us. Her birthday party became her celebration of life instead. The timing seemed Divinely planned since our family was already planning to be together. These are some thoughts I shared at her party:
When Mom lived with us in Twin Lakes, she used to pride herself on bringing the neighborhood together with a smile and a wave. She spent countless hours walking the neighborhood with her friend, DJ, and the dogs, stopping to talk to everyone she met along the way. It didn't matter if she saw a neighbor, a landscaper, the mailman or a construction worker…they each got the same friendly greeting. She made each of us feel like her very favorite whether we were her daughter, a friend, a neighbor, a caregiver, a dog or her son (OK, well actually her son, Fred, really was her favorite) She would light up every time she saw him, even when she couldn't remember exactly who he was!
The morning Mama died, Tauai, one of her caregivers at Olympic Alzheimer's Residence, had just gotten back from her vacation in Hawaii. She told me she thought Mom had been waiting for her to return from her vacation before passing. I had been sitting vigil, singing, praying and reading poetry to Mom for the whole week, really wanting to be with her till her last breath, and actually she was waiting for Tauai to return! I had to laugh…clearly Tauai was another of her favorites!
Mom lived a big adventurous life. She moved to Japan as a missionary at a time when she could only write letters to her mom and Dad. She expected she might not ever see them again but she wrote detailed letters of her life so they could enjoy it vicariously. Lucky for us, Grandma saved those letters written on the very thin blue airmail paper or onion skin so we will always have Mom's stories. My mom tackled motherhood in a foreign country with bravery and joy. I remember her bouncing baby Liz on her hip, with Fred and I running around her in circles, while taking an Ikebana Japanese flower arrangement lesson from a teacher who came to our home. She baked bread and Snicker-doodles, chocolate oatmeal drop cookies and of course, apple pie. She welcomed neighbors, parishioners and Dad's students into our home for visits, impressing them with her yummy desserts and her willingness to speak Japanese as well as she could.
When we moved to the States after her divorce from my Dad, she managed life as a working single mom with the same energy and determination. One week when all three of us kids came down with the chicken pox, she was forced to take a week off of work to take care of us. Instead of just sitting around, she used the week to reupholster our couch. She had never done anything like that before and certainly couldn't Google how to do it at that time. Somehow it looked gorgeous when she was done.
Around the same time, she discovered that there was no Cub Scout troop in the area for Fred to join, so she decided to become a Den leader. Soon after starting the den, she heard of a piano that was available for free to anyone who would move it. We had no access to a truck but she now had a troop of cub scouts! She discovered a Road Safety Badge that the Cubs could earn if they paid attention to traffic. The next meeting involved the 7 little cub scouts wheeling that piano to our house while observing all traffic rules. They got their badge and we got a piano.
When Mom remarried and we moved to Lebanon, Indiana, she took up golfing and quilting and pursued her interest as an amateur archaeologist. In the summer of 1977 she helped unearth the skeleton of a mastodon that had been discovered in a farmer's bog in southern Indiana. She loved that work so much but came home so muddy and stinky that we would have to hose her off in the driveway before she could come in the house. The mastodon is still on display in the Children's museum in Indianapolis.
Mom was known for her perseverance. She faced many challenges in her life but she kept getting back up. There is a famous Japanese doll that is red and round and made of a special type of Japanese paper. It's depicted as a body-less head that stares with fierce determination and is called Daruma. These dolls are built to automatically bounce back up when knocked over. It represents a sage monk, Daruma-Daishi, from the 5-6th century who also never gave up. Daruma dolls are constant reminders of what the Japanese call the ganbaru spirit. Life is full of pitfalls and bumps on the road. It's inevitable that you'll stumble sometimes. But it's up to you to get back up. The doll embodies the popular Japanese proverb: Nanakorobi yaoki. "Fall down seven times, stand up eight."
Mom had the ganbaru spirit. After she and my step father divorced, she went back to school to become a social worker. When she struggled with depression, she volunteered for the Suicide hotline. She said it helped her keep her own challenges in perspective when she could help someone else. She graduated with her master's degree in social work at age 54 and soon afterwards moved to Charleston, South Carolina. She arrived in Charleston only to find that the job she had been promised had fallen through. Undeterred, she wasted no time finding another social work position at a hospital where she worked until age 71. She became known in that hospital as the Elevator Lady because she always made a friend between the 1st and the 3rd floors.
When she turned 60 Rocky and I were working in the jewelry business in Southern California. We thought she might like some jewelry to commemorate her banner birthday. But no, she was not interested in gold and gem stones. She wanted a poke boat, a kind of kayak that she could hoist onto her car and drive off for an adventure. She kept her kayak behind her couch in her apartment and spent many weekends camping, hiking and kayaking with her friends. Towards the end of her 6th decade she may have started experiencing some signs of Alzheimer's although she would not be diagnosed until later. Her friends told us that she started arriving to her camping trips, frequently forgetting her tent or sleeping bag. They were not worried though because she always brought her famous brownies and her great attitude!
After she moved to Seattle to live with us and discovered that she had Alzheimer's, Mom did not give up on being of service. She focused on what she could do rather than what she could not do. Her favorite question was, "How can I help you?" She continued to ask me that question even after she could no longer remember the answer long enough to accomplish a task. Her heart was in it but her brain was not. Before she got to that stage though, she became our self-appointed laundry lady. For a period of time, Mom would practically be waiting for me to take off my underwear so she could wash it. We didn't even need laundry baskets during that time because she threw herself into the task with such gusto. She did the same thing with weeds. For a while, we were the envy of our neighbors because Mom would yank out our weeds as soon as they dared to poke their heads out of the dirt. When our laundry turned pink and our flowers started getting dug up along with the weeds, we encouraged her to start raking instead.
She took Gentle Yoga classes from me at our yoga studio for about ten years. She assigned herself the role of hostess, greeting all of the new students and showing them where to get their props and where to set up their mat. I still have many students asking about her because she made such a difference to them when they first started taking yoga. She also made friends with some of the ladies who invited her to lunch after yoga. One of them in particular, Becky, invited her to coffee dates, watched movies and chatted, making mom feel, in her own words, "like a real person," in spite of her illness.
For one of my birthdays some years ago, my crazy business partners, Karen and Suzy, their husbands and kids and Rocky and the boys created a video based on a suspenseful TV series called 24 with Keifer Sutherland that I was secretly addicted to at the time. In the video, Mom played the starring role as "M" and was the mastermind behind the plot to buy up all of the yoga studios in the country and turn them into Famous Dave Bar-B Q restaurants. In the final scene, "M" is discovered in the back seat of a van in the studio parking lot. She says, "Yoga, yoga, yoga, that's all I ever hear and I'm sick of it. I was disciplined as a child and I don't want to be disciplined any more." It is a hilarious family classic that we have watched over and over again, laughing through it every time.
While she was still in the early stages of Alzheimer's mom took one last trip, this time to China with her friend, Hsin. She loved that final adventure and brought home a souvenir miniature of one of the clay figurines depicting the Terra Cotta Army that had been excavated in an archaeological dig there.
After that trip, her routine and life got smaller due to her limitations. Mom turned her attention to noticing what was beautiful around her instead. She was the first to point out a rainbow, a beautiful leaf, a cute baby or a dog. She had always been a fantastic Scrabble player and miraculously continued to beat us for years even while struggling to retrieve the word for simple things like a lemon or a shoe.
Once Mom moved to Olympic Alzheimer's Residence last year, it was difficult for her to remember who I was. But she quickly endeared herself to the caregivers there with her big smile and continued kindness. It tickled me to arrive for a visit and to see her wearing sparkly pink nail polish and a cute head band. She never had been very girly, preferring to be outdoors and on an adventure over getting her nails done. She had saved her Princess years for last, I guess.
One of the questions she used to ask me every day when I got home from teaching was, "Did you have a good turn-out?" I think she was smiling to see who she brought together this past weekend to honor her life. I'm sure she was grateful for the good turn-out and of course, that we were all eating pie.
While my siblings and I were together last weekend, we scattered her ashes at a special spot on a trail near a cute bridge and creek that she loved. She had pointed out the place years ago when she was still able to hike with us. Today I took the flower petals from her celebration bouquets to scatter in the same place. While I was there, I thought of the Beatles song my parents used to play when I was little: "and in the end…the love you take is equal to the love you make." Mama loved everyone and felt their love in return. Good bye, Sweet Mama. You will be missed.