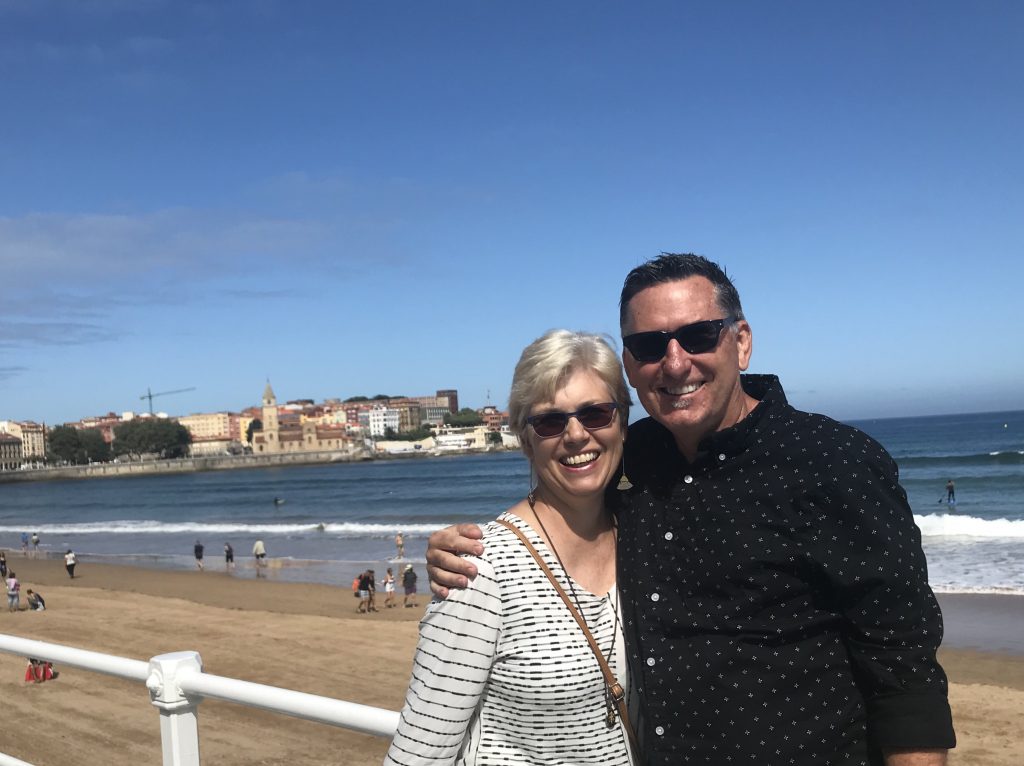 Many of you have asked recently if our plans have changed due to the quarantine. I don't think anyone's plans have remained completely untouched by the global pandemic, ours included. We are just taking one day at a time, like the rest of you.
In the last couple of months, we've cancelled graduation trips, a vacation to Japan and countless parties but the most important plans are still in the works: our retirement in Spain. How did we even come up with that idea and does it still make sense?
In the fall of 2017, I led a hiking and yoga retreat to Asturias, in northern Spain. For two years prior to that retreat, I had been following Spanish Steps online, reading about their boutique hotel, a converted 700 year old farmhouse with it's own yoga studio in the hamlet of Faedo. I was curious about what kind of retreat experiences they were offering. I read all of their reviews, looked at the gorgeous photos of nearby hikes and the hotel and eventually contacted some of the yoga teachers who were regularly leading retreats to there. I talked to two yoga teachers in the States and one from Australia. Their raves convinced me that I should lead a retreat to Hotel Fuentes de Lucia as well.
I wondered if my yoga students would even be interested in going to Spain. I tentatively picked a retreat week that was two years away. (I've been known to be a planner, what can I say?) Then I sent out a casual email asking if anyone was interested in this possibility. The response was immediate and positive. In fact, many asked if they could give me a deposit right away to hold their place in the retreat. Within a week the retreat was sold out and had a waiting list!
I emailed Judy, the owner of Spanish Steps, and asked if I could add a second week immediately following the first week we had booked? She laughed and said her calendar was wide open that week because after all…it was two years away! I excitedly contacted the people on the waiting list and within two more weeks, the second Spain retreat was full.
My son Cody, said, "Mom, you could just keep booking retreats and spend the whole summer there!" Two years seemed like a long time to wait and I probably could have kept booking retreats but I thought it would be wise to actually go to Asturias before booking any more trips in advance. Rule number one in planning a retreat is to thoroughly check out the location prior to the retreat. Being so far away, I had to rely on the research I had done from a distance. Was it enough?
I remember the feeling of panic I felt when we finally arrived in Oviedo, Spain and were waiting to be picked up by the hotel van. What if the driver didn't show up? What if the retreat center didn't actually exist? What if I had brought all of these people with me and the place was a dump? Suddenly the pressure of being in charge made me want to throw up. Gratefully, right about then, Mario and Camilo, our Spanish Steps guides arrived in two white vans. Their big smiles and welcoming hugs put me at ease immediately. Our adventure was off to a great start.
Forty five minutes later we arrived at the hotel in Faedo, a tiny town of just eight people in the Quiros Valley. We were greeted by Judy's husband Juan Carlos, the dueno (innkeeper) and head chef of Hotel Fuentes de Lucia. The hotel was a charming mix of original stone farmhouse with all of the upgraded amenities of a modern hotel. Our bedroom featured big windows overlooking the valley and French doors leading to a sweet patio. Each bedroom had it's own bathroom with tub and shower.
The yoga studio that Judy had designed sat just below the hotel and had the same stunning view of the valley and every yoga prop we could possibly need. I can still feel the magic of starting our morning practice when it was still dark outside and watching the sun slowly rise over the valley as we started to move.
All of our meals were served communally in the dining room which was next to the kitchen. These rooms had the rough stone walls of the original farm house and were where a donkey lived before Judy and Juan Carlos bought the building. The kitchen is now spacious and inviting, the real heart of the hotel, and where Juan Carlos creates his masterpieces every day. Clearly much better suited to a chef than a donkey now! Whenever we would complement Juan Carlos on an amazing soup or mouth-watering meal, he would laugh and say humbly, "while you are out hiking, I am here watching how-to-cook videos online!
Our days quickly fell into a comfortable rhythm of yoga, and breakfast followed by a hiking adventure in the surrounding mountains. Both Mario and Camilo were knowledgeable about the flora and fauna, as well as the geology and history of the area. They shepherded us with enthusiasm, showing off the area they clearly loved while keeping an eye on any tired stragglers.
Afternoons were for siesta or restorative yoga followed by happy hour where we would gather in the courtyard with a glass of wine or sidra, the local hard cider, and share stories about the day. Every dinner felt like a group celebration following an exciting day.
At some point during those first two weeks, I fell hard for Asturias. Following the retreat, Rocky, my husband and trusty sherpa, and I spent another two weeks exploring other areas of Spain including San Sebastian (known as food capital of the world), Haro (in the wine country) and Barcelona. In Haro we toured Rocky's favorite vintner, Muga, and were delighted to find out the family who owned it was named Martinez. As common as the name is, it still had to be a distant relative, right? I kept Rocky from hugging the current owner (the 80 year old granddaughter of the founder) and calling out, "Mi Abuela" (My Grandma!) When we returned to Washington, we kept dreaming about a return trip. Hearty seeds had been planted.
We talked about the possibility of retiring outside of the United States, somewhere that we could stretch our retirement dollars and enjoy an adventure. Our search took us to Ecuador in 2018 where we fell in love with the Galapagos Islands, but in our hearts, we knew we still belonged in Spain. Rocky did a DNA test and traced his ancestry to Burgos, Spain near his beloved Muga winery. It was not a stretch to imagine why he was feeling called to return to "his people." We sold our house, downsized to an apartment and got serious about our next steps.
Last summer, I led another retreat to Hotel Fuentes de Lucia and it felt like coming home. This time when the retreat ended, we went to Gijon, on the northern coast of Asturias, about 45 minutes from the Oviedo airport or 1 1/2 hours from Faedo. Juan Carlos had recommended that we check it out as a possibility for retirement.
Gijon, a city of approximately 275,000 people opens up to the Bay of Biscay and boasts miles of wide sandy beaches. The vibrant and walk-able downtown area is filled with tempting restaurants, markets and everything else we might want, and is easy access from the waterfront, not unlike Tacoma where we live now. Residents of all ages walk the boardwalk above the beach with their kids and dogs, and many seniors swim in the ocean daily. The weather is moderate and very similar to the Pacific Northwest. Even the topography outside of Gijon reminds us of home.
This time when we returned to Washington, we had a plan. We decided to move to Gijon in February 2021. By February 2020, I sold Three Trees Yoga to my business partners, Suzy and Karen. I planned to continue teaching for the year and to help with the transition as needed. We hired a lawyer in Spain to help us start the visa process.
Less than a month later, we were all quarantined. Currently the Spanish consulate in San Francisco is not accepting applications for visas. But we still have time. We will continue to walk towards our dream. Our timeline may change but our dream will not.
In the meantime, I am teaching yoga on Zoom and Rocky is running his company from our kitchen counter. Our downsizing continues as we sell, re-home or throw away things we no longer need. If you get a gift from us this year, chances are good, we used to own it and you admired it once so be careful what you say! If you try to give us anything that is not edible, or disposable, we will likely "gift" it back to you when we leave the country. We have also spent hours scanning photos of our kids that were taken before we had a digital camera so that we no longer have to store printed photos. A perfect quarantine project!
We are determined to get down to five or six suitcases worth of belongings. Rocky's suitcase will probably be full of his favorite cooking utensils and lots of shoes. Mine will have yoga pants and yoga props. Before we leave we will sell our car and get rid of everything except a few pieces of art and family keepsakes that we will keep in storage until we decide how long we want to live in Spain. And yes, Wilma will definitely be going with us! She is already learning to bark in Spanish.
If this pandemic has taught us anything, it is to be adaptable and maybe not plan so far in advance! We are committed to spending at least a year in Spain. That one year could turn into ten, but we won't know for awhile. We are just taking life one day at a time.