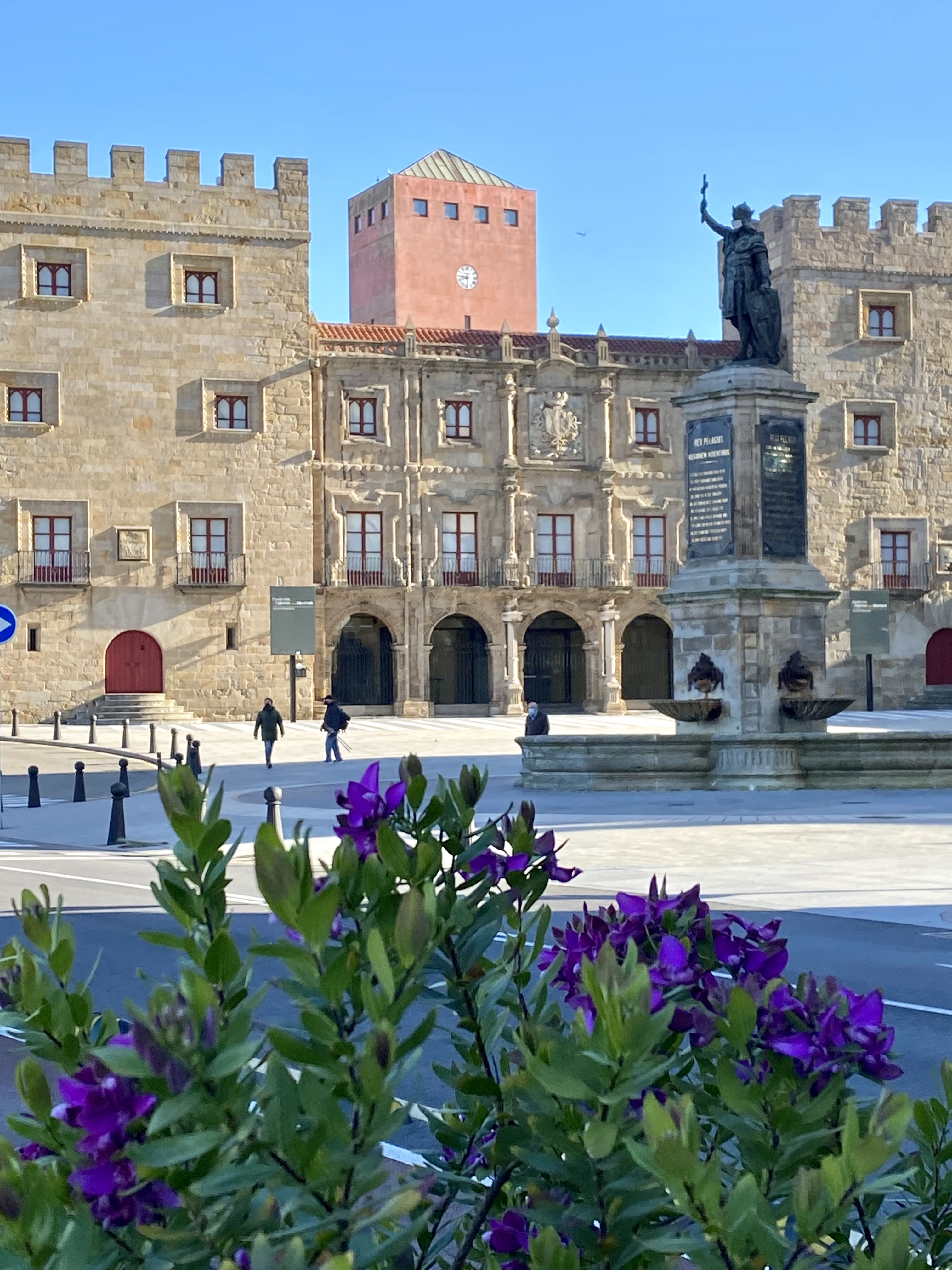 This week in my Spanish language class, my teacher Cristina flashed a photo on the overhead projector of my neighborhood Cimadevilla because of it's historic significance. Because our class is small, conversational and informal, and because I'm an obnoxiously enthusiastic student, I excitedly said, "Es mi barrio! Alli esta mi apartamento!" "That's my neighborhood. There is my apartment!"
Cristina invited me to point it out on the photo to everyone and when I did, Cristina herself was surprised. She said she had been in my apartment many times because she knew the people who had lived there before we moved in. She said they were from France and lived in our place for just a couple of months. Since Gijon is a city of 275,000 people, mostly living in apartments, this seemed like an amazing coincidence. "What a small world!" I said and then instantly heard in the recesses of my mind the annoying theme song for the Disney ride, "It's a small world after all."
Being the creative instructor that she is, Cristina seized the opportunity to teach us a new phrase. In Spain they say, "El mundo es un panuelo." Literally translated as, "The world is a handkerchief" but meaning "It's a small world." I love learning idioms or phrases that can't be translated literally. Incidentally, the word panuelo is used for a Kleenex-like tissue here as well. I kept turning that phrase over in my mind, as though I was savoring a caramel. The beauty of the Spanish version is that Disney has not gotten a hold of it so no irritating songs play in my head when I think of it.
As we talked further about the history of our neighborhood, Cristina enlarged sections of the photo, highlighting the thermal baths, the Cathedral of San Pedro, the beaches, the Queen's Garden, the statue of Pelayo, (first king of Asturias) and the most photographed spot in Gijon: the giant orange letters in front of the marina spelling out Gijon. As she gave us the virtual tour, I pointed out a few of my own favorite spots including the Arbol de Sidra, the illuminated tower made of of 3800 green Sidra bottles and the Rock and Roll ( La Escalera de Rock) staircase, a painted stone staircase featuring many of our favorite rock and roll songs located right next to our apartment building.
I also shared that I would be taking my first yoga class in Gijon on the Puerto Deportivo marina pier near our place very soon. While Rocky and I were walking Wilma last Monday, Rocky noticed two women carrying yoga mats passing nearby. Knowing that I've been on a search for an in-person yoga class, he nudged me to go talk to them. At that moment, I noticed a younger pony-tailed woman wearing yoga pants and carrying a yoga mat. She was pushing a bicycle with a basket on the front and walking towards us. She was walking next to a guy with long hair, carrying a guitar. I try to resist stereotyping but these two looked like they could be on the cover of the Prana catalogue, selling the latest yoga clothes. I let them walk past me because they were deep in conversation and I didn't want to interrupt. When they got a bit ahead of me, though, I decided I couldn't miss my opportunity. I ran towards them, mentally reviewing all of the yoga words I knew in Spanish, and asked forgiveness for the interruption.
"Are you a yoga teacher (profesora de yoga)?" "Yes!" she acknowledged in Spanish. "I'm Eva. I teach a yoga class outdoors on the pier on Mondays and Wednesdays at 4:30 pm…when its not raining. You're welcome to join us. You'll just need a yoga mat and a blanket." For weeks I had been calling and emailing every yoga studio I could find in Gijon. Most are still closed due to Covid but the few that were open had limited capacity and no room for any new students currently. I practice yoga at home, alone, but I really want to meet some other yogis. I miss my community of yogis. Taking a yoga class in Gijon is also not a bad way to learn the parts of the body in Spanish. I didn't ask Eva what kind of yoga she teaches or what level the classes are. To roll a mat out next to other people who practice yoga, especially by the water, sounds like heaven. For me, yoga is not just a practice. Yoga is community. I can't wait for Monday!
My teacher, Cristina listened attentively to my story about meeting Eva and then said, "I know Eva, the yoga teacher! She's a friend of mine." Ahhhh another opportunity to use my new favorite phrase: El mundo es un panuelo!
After almost a month in Gijon, we are finding a rhythm that feels familiar and comforting. We've gotten some of the more challenging appointments like applying for our residency card, requesting debit cards from our bank, getting a Spanish cell phone and cell number, and finding a vet out of the way. Each of those involved learning new vocabulary words, unfamiliar phrases and trying to read contracts in Spanish. With each step accomplished we feel more like residents of Gijon and less like tourists.
I even managed to get a manicure and pedicure this week. Initially the woman charged with getting my feet ready for my outdoor yoga class, Francis, was not very friendly, or as they say in Spanish, "amable." I think she had sized me up as a tourist passing through. Determined to practice Spanish every chance I get and not wanting to have to continue my search for a more welcoming salon, I asked her if she had grown up in Gijon. She gradually opened up and told me that she had moved here from Venezuela with her husband and children 12 years ago to help take care of her in-laws who live in Gijon. She confessed that she finds Gijon a bit sleepy and boring compared to her home town of Caracas. Interestingly, the things that we find charming and that we love about Gijon are lost on her.
As she continued to work her magic on my feet and hands, I discovered that she owned the salon and that her three daughters also work there. The name of the shop is KAOS which I assumed was an unfortunate choice since it sounds like "Chaos." As it turned out, they intentionally chose the name as a play on the word for Chaos in Spanish which is "caos." They wanted to create an urban oasis, a place where women could escape their hectic, busy lives and find tranquility. The oldest daughter Gabi, explained that the logo contained all of the colors of the chakras. She said she didn't practice yoga but that she was very spiritual and loved the idea that their salon was an oasis for all of your chakras. I smiled feeling as if I had indeed found the right place to get my yogi toes done!
Of course there are still many more professional services to find like a hairdresser, a doctor, a dentist and a gynecologist. "Aye Dios Mio!" I'm not looking forward to that one. With each successful transaction at the market, the drug store, the bookstore, etc., I feel a little more confident about tackling those appointments.
Today, when I was walking through the dairy section of the supermercado (supermarket), I heard a little voice say, "Hola Jeni!" I turned around to see Yentl, a German girl who is in my Spanish class and works as a nanny in Gijon. For one minute, I was transported back to being at Fred Meyer grocery store in Federal Way, WA where I would see someone from our community every time I went in. I always felt like I needed to put on lipstick and brush my hair even if I was running in for one item. I could have hugged Yentl right there in front of the eggs and yogurt but I held back not wanting to embarrass her. Here I was in Gijon, Asturias, being recognized by someone from my new community. Immediately what popped into my mind was, "El mundo es un panuelo!"