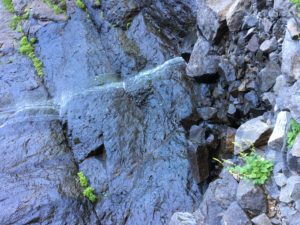 Ever notice a flower growing up through the crack in a rock, defying all odds to assert it's beauty in the world? That's how love is sometimes…
During a recent visit to what we refer to jokingly as Mad Park, the memory care facility where Mom lives, I was struck by how sweet the human connections are even when memories fade. Mom was sitting on a love seat and I was sitting in a chair next to her. Ron, another resident, walked by and Mom reached out and grabbed his hand. She patted the seat next to her inviting him to sit down. He sat and put his arm around her as though it was the most normal interaction. She smiled and rubbed his back as though they had been a couple for a long time. One of the caregivers walked by and raised her eyebrows at me and giggled.
Ron is not who I ever would have imagined for Mom. He is tall and handsome, sure… if you look past his mismatched clothing and bare feet; the fact that he is usually wearing parts of his breakfast on his chin and his shirt; his tendency to point and to invade your space without being aware of it; and his inability to put meaningful words together. None of this mattered to Mom in that moment though. She seemed entirely pleased with his attention.
Initially, I squirmed at their affection for each other. Then I almost laughed out loud remembering one of my cringe-worthy boyfriends that made Mom feel equally uncomfortable when I was in my twenties. This is how she must have felt when I introduced her to him!
Love finds its way even in this unusual community where some residents are non-verbal, some non-ambulatory and most need help with feeding, bathing, dressing and toileting. Like the single flower pushing its way up through the rocks, affection and love demand attention.
Carol, the most verbal of all of the residents is never far from Willie who doesn't say much but no doubt gives Carol great comfort with his quiet presence. Arlene loves her real-life husband, Bob, who is a frequent visitor to Mad Park. She tells everyone, "Bob is the best! He is such a good man." Until recently though, she would mistake another resident named John for her husband, Bob. In her mind, Bob was never far away, because she could sit next to his stand-in, John, and absolutely believe she was with her sweet hubby. John's wife was not comfortable with the arrangement though and found him another place to live.
The love I find most inspiring, though, is the love the caregivers show the residents. Rosemary, who moved here from Kenya just a year and a half ago, treats my Mom like she must have treated her own precious mother back home. Maybe my mom fills a place in her heart that is hurting from being so far away from her own mother. Or maybe she is just an Angel in disguise dressed in her caregiver's blue smock. I have watched her dress my mother in her nightie and tuck her in bed with such tenderness, even kissing her forehead and whispering, "I love you, Mama." She never winces or complains about even the most challenging parts of the care Mom needs now. Rosemary tells me all the time, that she loves her work, which is obviously more of a calling than a job.  It is clear from her smile that Mom loves Rosemary, too.
Then there is Genise…she always has an easy laugh and a masterful way of redirecting the residents when they get upset. This morning, one of the newer residents was pulling at her own wet hair and shouting, "someone needs to fix this!" Genise said, "You are upset but I love you anyway!" She handed her an eggnog (without the whiskey, of course) and got her settled into a comfy chair helping her to forget completely that her hair was still wet. Genise remembers what each resident used to do before they needed full time care. She calls Mom's roommate "Teacher Margaret" and  gives her coloring books to keep her busy, recalling her past as an elementary school teacher. She asks another resident, Bob, for "permission to proceed?" with any task she is doing when he is nearby, honoring his former life as a business manager. He lights up when she reminds him of his supervisory role, not realizing it is imaginary now.
On Christmas Eve, I stopped by and found Lou, another of the caregivers "cleaning up the boys." She was shaving all of the male resident's heads and faces, clipping their nails and getting them ready for their home visits on Christmas Day. There was nothing perfunctory about her actions though. She held their hands and cooed to them as she got them cleaned up, bragging that she does this for her own husband too. I could feel how treasured they felt by her careful attention.
Today when I was with Mom, Ron walked by again, but this time there were no sparks flying. They didn't even seem to notice each other, both lost in their own vacant stares. We used to tease Mom when she lived with us that if she met a man she liked, she had to make sure he had his own house because we did not have any more room in ours. Now that she lives at Mad Park, we don't have to worry about that.
I am grateful, that now when Mom's life is more difficult and she needs help doing the simplest tasks,  she can still experience moments of deep connection and sweet affection and truly love the one she's with… even if it is only for a fleeting moment.