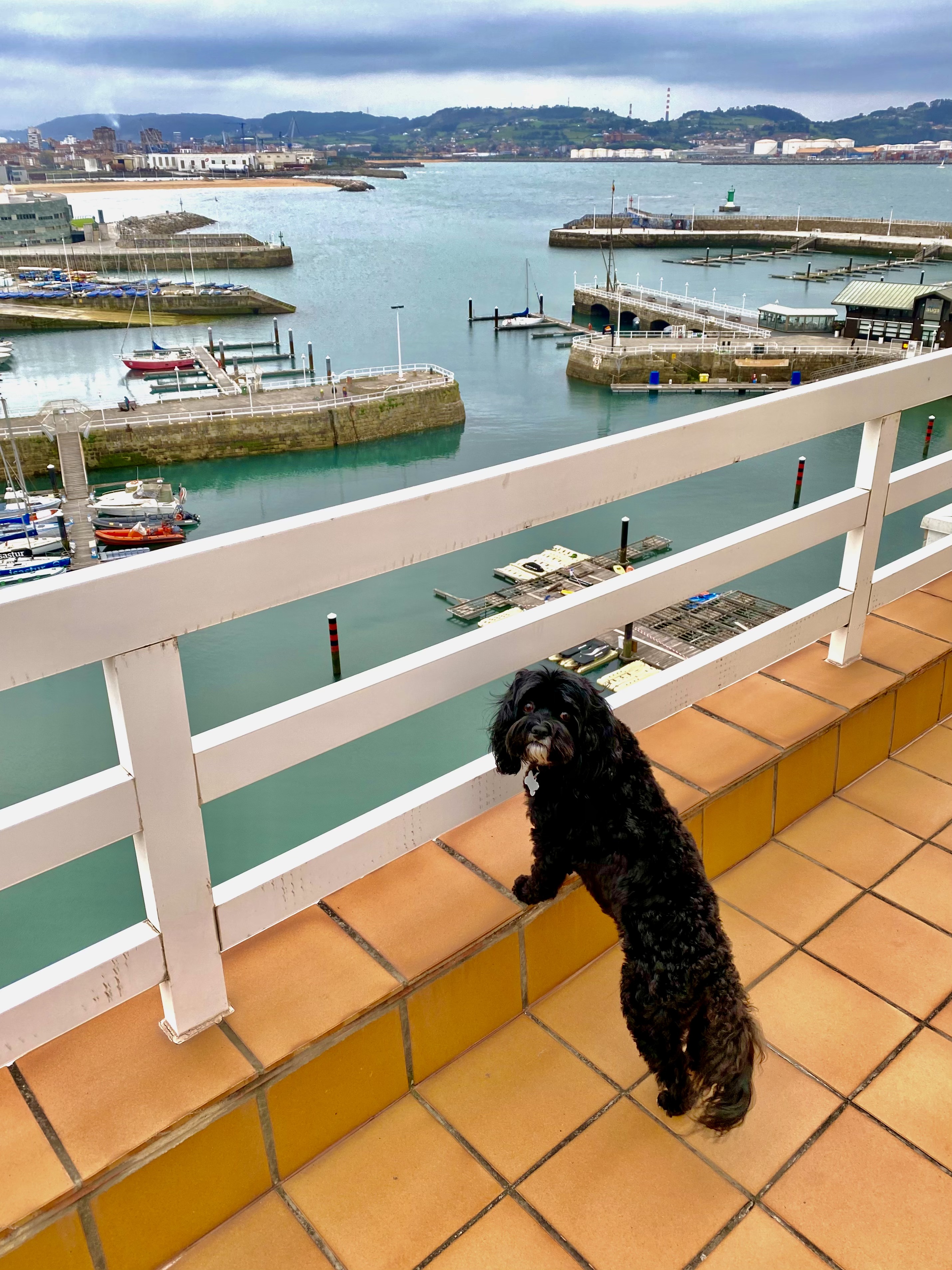 After 3 years of planning, 4 days of travel, 2 airlines, 3 flights, 3 hotels, 3 countries, 5 taxis, and a 5 hour drive from Madrid to Gijon, we arrived at our new apartment! We could not be more excited to start our new life. We covered over 5000 miles to get here but so much of Gijon feels familiar and welcoming.
Gijon is a city of 275,000 on the Bay of Biscay. Many have commented on the fact that we traded in the Tacoma waterfront for the Gijon waterfront. They are not wrong, although here we have the waves and a surfing beach as well as historic stone walls and buildings. Gijon boasts long walkable beaches, many parks, a vibrant city full of restaurants, cafes and shopping and so many well-loved dogs.
How do we know they are loved? Most of them are wearing brightly-colored and very fashionable sweaters! In fact, we've been told there are more dogs per capita than children. Wilma loves Gijon because she is welcomed everywhere. Our waitress served us coffee yesterday and quickly dug a dog biscuit out of her pocket for Wilma. Later in the day, another waiter discovered we spoke English and practiced his on Wilma, saying affectionately, "How you, darlin'?" On our many walks around the city, Wilma has met countless other friendly pups with names like Pepe, Diego, CoCo and Phoebe. Of course, they share the universal custom of sniffing butts to get to know each other so Wilma feels right at home.
Most cafe's and restaurants have outdoor seating that pre-date covid, so the city remains vibrant and active. Many restaurants and cafes also offer indoor seating now although we've been comfortable staying outside. This is a very social culture built around visiting with friends, grabbing a coffee, wine or vermouth and sharing an appetizer or meal. Either as a result of living in apartments or the fact that there are so many inviting public spaces, very little entertaining is done in private homes.
Throughout Spain, masks are required everywhere outside of your home unless you are eating, drinking or smoking. School-aged children and the few homeless people we've seen are also wearing masks. In addition there is a pandemic-related curfew from 10pm till 6am, which may have cut into the Spanish nightlife but has not affected our enjoyment of the city in the least, since we are usually asleep during those hours.
Before we moved here, Rocky and I chose an apartment online. Were we nervous about choosing something we had not seen in person? Absolutely! My friend Suzy and I have a saying, "We can do anything for 45 minutes." It was born of a rather challenging yoga class we took years ago with Andre Lappa. Rocky and I adapted that saying to: "We can live anywhere for a year." We kept repeating that mantra but secretly harbored anxiety about whether the apartment was going to look like the photos we saw online. Would there even be an apartment when we arrived? Would it really be fully furnished?
We arrived in Gijon on Saturday afternoon, March 6th, and met Carlos, the real estate agent who had helped us set up the lease. Meeting him immediately put us at ease because he was so easy-going and friendly. He led us up to the 8th floor in a tiny elevator, two at a time. I don't know about Rocky, but I was holding my breath for the big reveal. At the 8th floor landing we saw two ornately carved wooden doors across from each other. At one time, the apartment was divided into two living spaces but now both doors would lead to our new life: one to the kitchen, one to the entryway.
When Carlos unlocked the door to the kitchen, it appeared as we had expected: a rather spacious kitchen by Spanish standards that included a European sized refrigerator, a stove top, oven, microwave, dishwasher, built-in cabinets with glass doors filled with white china place settings and a door leading to a glassed-in sun porch. So far so good. I started to breathe a little easier.
We wandered onto the sun porch to see the washer/dryer combo and the more traditional clothes lines that were available as well. The view was a spectacular combination of terra cotta tiled roofs, a church steeple and one of the many beaches in the distance.
We continued our tour, taking in the two guest rooms that were small but charming. Like the smart realtor that he is, Carlos saved the best for last. We rounded the corner to the spacious dining room/living room combination that looked out over another terrace. We could see the marina and much of Cimadevilla, the historic section of Gijon, from this terrace. The site of the water and the boats in the marina really made us feel at home.
The master bedroom was down the hall and also had a breathtaking view of the terrace, water and city. After living in 568 square foot apartment for the past year, the place felt enormous. In fact, Rocky who usually has a brilliant sense of direction, kept losing his way to the kitchen for the first two days. Gratefully, he knows how to get there now since he is the chef in our family!
After Carlos left, Wilma started running around the apartment jumping on and off the beds like an excited kid. Rocky and I kept walking in circles, not fully believing that we get to live here. At 7 pm we made a critical discovery, though. The apartment had everything we needed… except bedding and towels! No sheet.
I don't know how we missed this detail. Apparently, we didn't think to ask and Carlos did not volunteer the information. Our son Cody, reminded us via text that stores would not be open on Sundays here so we better go in search of what we needed right away.
Thanks to the angels that surely must've been guiding us throughout the trip, we found a small bedding store less than a mile from our apartment. They were closing in a half hour. I quickly realized my vocabulary around bedding was limited to bed (cama) and towel (toalla)! How would I describe thread count, fabric and size? We had no time to lose so I didn't even think to consult the Spanish dictionary app on my phone. With lots of help from the kind sales person, we managed to find pillows, sheets, a comforter, blanket and towels. I hoped that 150 cm was the right size for the sheets on our bed but I wasn't sure. What we picked was not exactly what we would have chosen if we had more time, a bigger selection or complete mastery of the Spanish language but they would work just fine. We would sleep well and that is what mattered most! At 8:05pm we left the store loaded with bags and walked home to make the bed.
Once again, we lucked out. The new bedding fit the bed perfectly. When we opened the blanket we had chosen to put over the sheets and under the comforter, we were surprised to find a flat furry blanket, a fitted furry blanket and a furry pillow case. Apparently we had bought a set of furry sheets, not a blanket! At 8:30 pm after 4 days of travel, this got us laughing hysterically. We ended up using the flat furry sheet on our bed as a blanket. We didn't waste the fitted furry sheet and pillowcase though: those are waiting for our first brave guests to arrive! I'm sure you will be very cozy with your furry sheet.
Yesterday, we met the landlord Pieter for the first time. He is originally from Switzerland but met his Spanish wife Luisa in Paris where they were both studying 40 years ago. They lived in the apartment we are renting during the first four years of their marriage and now live in Luisa's family estate outside of the city. Pieter invited us for coffee and after getting to know each other, he admitted that he and Luisa had decided that Rocky and I must be big gamblers! They could not imagine that we would choose an apartment site unseen and send a good faith deposit and two months of rent unless we were big risk-takers. We all had a good laugh about the level of trust we had that all would work out well.
After all of our planning and a year of living in isolation in 2020, we are loving these new experiences: the yummy food, the gorgeous views, the friendly people. We couldn't be happier or more grateful. No sheet!