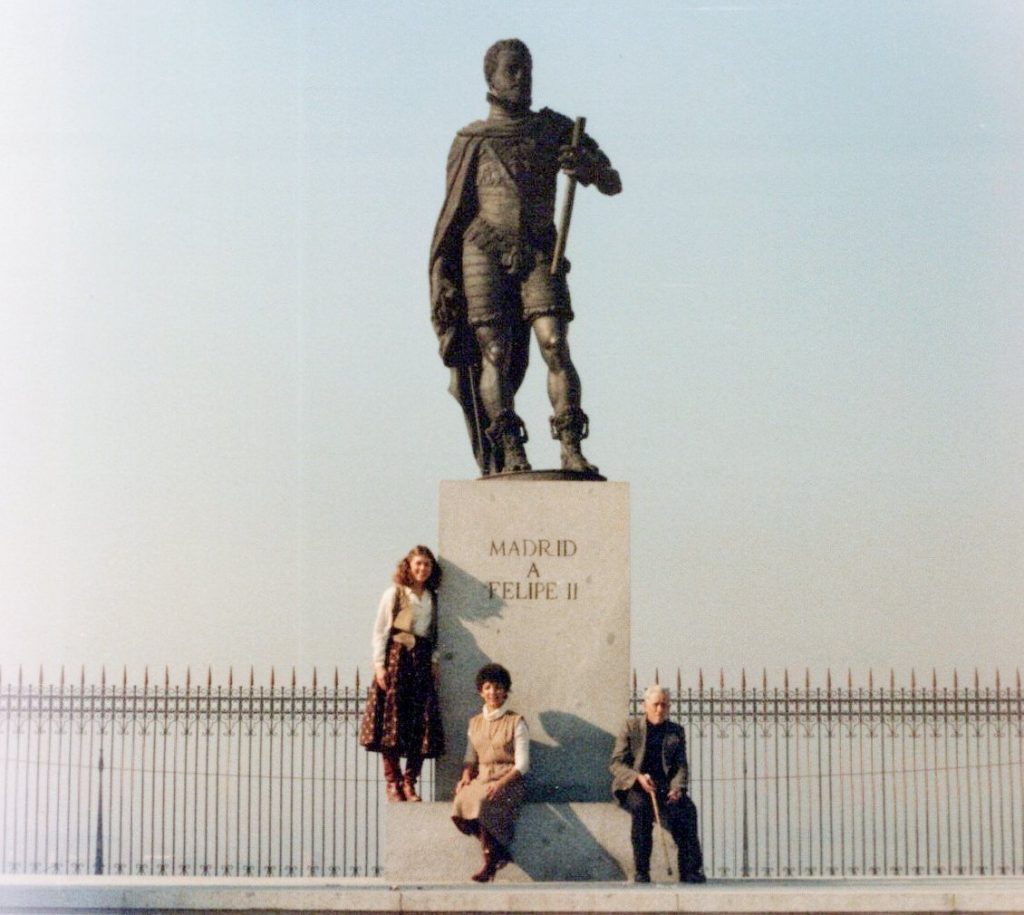 When cleaning out the storage unit earlier this year, I came across this photo taken during my first visit to Spain. I had not looked at it in decades and was surprised by the rush of memories that accompanied it.
In the summer of 1978, I traveled to Spain to study at La Universidad Complutense in Madrid for a year. A sophomore in a study abroad program for Indiana University, I was majoring in Spanish and Business, and hoped to eventually work as a translator for the United Nations. My roommate Teresa and I rented a room in a two bedroom apartment in Madrid, owned by Maria, a Spanish widow in her sixties.
When we arrived at Maria's apartment we sat together in her small living room to visit and get to know each other. My confident, 18 year-old self was excited about being in Spain and had no apprehension about the language because I had been studying Spanish for five years in high school and college. After the initial greetings, Maria started telling us all of the rules she expected us to follow. At least that's what I thought she was talking about. Glancing at Teresa, I wondered if she was also having trouble understanding her rapid-fire Spanish. Maria may as well have been speaking Russian because I could not understand anything she said. So much for my high school Spanish.
Eventually, Maria noticed I was not following and slowed down enough for me to understand what she was saying. She admitted she had never met a vegetarian or pescatarian and was worried about what she would feed me. You eat pollo (chicken), right? No, no pollo. How about pavo (turkey)? No pavo. Cerdo (pork)? No cerdo. I told her I would eat fish and vegetables. She seemed perplexed but promised to do her best.
In the months that followed, Maria taught me how to make tortilla espanola, a traditional potato and egg dish, that is still one of my favorites. She would make it for dinner and then put the left overs in a half baguette to create a potato bocadillo (sandwich) for lunch the next day. Breakfast was milky coffee and Maria Dorada cookies, a graham cracker like treat. Since I didn't eat meat, Maria often served boiled potatoes, canned tuna and tomato slices with a side of mayo for dinner. On holidays, she would drive us to the countryside to her family home and make a yummy seafood paella, a rice dish that is cooked in a large paella pan on an outdoor bar-b-que.
Teresa and I did not go hungry that year. We had six bakeries on our way to school and managed to visit them regularly. Another favorite stop was the churreria, famous for fried donuts called churros covered with sugar and served with a pot of thick hot chocolate resembling warm chocolate pudding, perfect for dipping. Keep in mind that we were college, so we were known to occasionally pull an all-nighter or stay out past our curfew. (Sorry Maria!) The churrerias would open at 5 am and we would be in line when they opened.
When not studying, I explored the city, falling in love with everything about Spain. I felt like I had come home. I often wandered around El Rastro, a huge flea market where you could find every kind of artisan, food seller and lots of tourists. I applied what I was learning about Spanish history and art in school, by offering unofficial tours to English-speaking tourists that I met at the flea market. My off-the-beaten-path tours introduced curious travelers to all of the well-known museums, statues and tourists spots in Madrid but also included cafes and local markets, tapas (appetizer) bars and other treasures that traditional tours did not include. My enthusiasm for Madrid and Spanish culture, and my imaginative (mostly accurate, but slightly embellished) story telling brought Spanish history to life and translated to generous tips from the tourists.
My university classes were scheduled on Tuesdays and Thursdays which allowed me to travel from Friday to Monday on many weekends. I took buses, trains or hitch-hiked with a friend depending on where I was going. Hitch-hiking in Spain in the 70s was relatively safe and allowed us to meet so many fascinating people. Plus, it fit the budget of a poor college student.
One of my advisors in Spain was an American woman who had done the same study-abroad program a decade earlier. While in Spain, she met and eventually married a Spaniard and stayed to raise a family. I daydreamed about the possibility of also marrying a Spanish man and living in Spain but knew I was years from that ever happening.
Four decades later, I am finally returning to live in Spain. Coincidentally, I married an American man with a Spanish surname who has Spanish DNA and can trace his ancestors to the area outside of Burgos in northern Spain. I am no longer scouting for tourists at the flea market but still love leading off-the-beaten-path tours. No surprise why I launched a global yoga retreat company that combines my love of yoga and travel, and features exploration of the best local restaurants, markets, hiking and culture wherever we go. As for the dream of interpreting for the United Nations? I figured out early on that while that was a prestigious job, it would never make me happy. I have too much to say to spend my life translating other people's words. I'll stick to translating menus in out-of-the-way places for people who also love to adventure.
It appears, I took the long way home.