"Travel is the discovery of truth; an affirmation of the promise that human kind is far more beautiful than it is flawed. With each trip comes a new optimism that where there is despair and hardship, there are ideas and people just waiting to be energized, to be empowered, to make a difference for good." Dan Thompson, Following Whispers: walking on the Rooftop of the World in Nepal's Himalayas
The Quiros Valley of Asturias in northwestern Spain stole my heart. Without meaning to, I returned there every night in my dreams for at least two weeks after returning from our yoga & hiking retreats this fall. The dreams were so real that in the darkness of the early morning I was surprised when I woke up in my own bed. It is not that I was disappointed to be home but rather that some part of me remained in the tiny hamlet of Faedo, population 8.
I've been asked a number of times to share my favorite memory of our time in Spain. It feels a bit like trying to pick the best moments of my boy's childhood…impossible because there were so many wonderful moments. What I keep coming back to in my dream though is waking up early every morning to teach yoga. I would leave the hotel to walk a few steps down to the yoga space, pictured in the photo above with the red tile roof.
The town of Faedo is so remote and so tiny, consisting really of a church, the hotel and some farm houses, that there are no lights to compete with the stars. I would spend a few minutes alone looking up at a still-dark sky filled with stars and sometimes even get to see the moon.
We would keep the lights very low as we started to move our bodies on our mats. Usually by the time we came to standing for the salute to the sun, the sun would actually be rising over the valley as if it were choreographed with my class. The windows in the studio faced the mountains and the valley and watching the dawn of each new morning felt magical, full of possbility.
Not knowing what adventure was waiting for us each day, also made our retreat weeks exciting. When I planned the retreat more than two years ago, I didn't even think to ask about our hiking guides. I was satisfied just knowing that we would be provided with one. On reflection, our guides, Mario and Camilo, were really the difference between a good retreat and a great one. They not only shephereded us through remote trails  but were so knowledgeable about the history of the area as well as the flowers, the mushrooms, the geology, the trees and the animals. They taught us new words, introduced us to delicious foods and challenged us with vigorous hikes. They even taught us to forage for chestnuts, berries, apples and fresh figs along the way.
In addition to being a guide,  Mario is an organic farmer who runs a small farm with his girlfriend and teaches elementary school children about sustainable farming techniques. There were many days when he would work his land from sunrise until he arrived to lead us on our hikes from 10am till 5pm and then return home to work on his farm until dark. On his "days off" he would drop us off and go rock climbing in the nearby mountains while we would collapse into a nap or a very restful restorative yoga pose.
On the final day of the first retreat week, Mario treated us to his own bottled sidra, a popular regional alcoholic beverage made from apples, that is poured from above your head into a tiny glass below to maximize the effervescence. He taught us the technique of drinking a shot from a communal glass, saving a tiny bit of it to swill around in the glass to "clean" it and toss it on the ground before passing it along to the next person.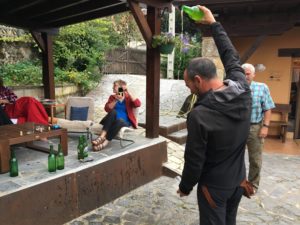 Our other guide, Camilo, surprised us with his humble personality and wicked sense of humor. On one particularly remote hike through cow pastures, we encountered some farmers who quickly exited their rock hut, shouting at Camilo. I didn't trust my translation of what they were saying because it sounded like, "I shit on your TV station! Where are your cameras? " Surely that could not be what they were yelling because they were slapping Camilo on the back and smiling while Camilo looked  rather amused. After we left the farmers, I asked for clarification, "were the farmers mad or having fun with you?" He laughed. Turns out that Camilo was a well known TV personality having been on a show about hiking and exploring in Asturias for 7 years. Although it had been several years since the show had aired, viewers from even remote parts of the country still recognized him. The farmers had come out of their hut shouting, " Holy Shit…it's Camilo from the TV station! Where are the cameras?" That was not the last time we encountered his many fans who usually begged him to take a selfie with them. He always obliged his fans and shrugged shyly when we teased him about his obvious popularity.
In addition to our amazing guides, we were cared for by Juan Carlos, our host and the owner of Hotel Fuente de Lucia, where we stayed. He and his wife, Judy, an American from Denver, are the owners of Spanish Steps, a company that leads pilgrimages on El Camino de Santiago as well as hosting various retreats at their hotel. Judy was leading a month long pilgrimage from Bilbao to Santiago de Compostela while we were in Faedo so we did not get to meet her until later. http://spanishsteps.com/home/
Nine years ago, Juan Carlos and Judy created the hotel from a centuries old farm house. They preserved much of the original structure of the farm house, converting a donkey barn into the kitchen and the original kitchen into an office, while maintaining the thick rock walls and stone oven. They relocated the donkey to a neighbor's farm and added eight guest rooms and the yoga practice room.
During the retreat, we shared meals together at the long farm house table surrounded by the thick stone walls.  Embraced by the ancient history of the place and fed by the delicious and authentic meals prepared by Juan Carlos we grew into an extended family. When we admired Juan Carlos' talents in the kitchen, he joked that he really didn't know how to cook and spent every day online Googling how to prepare Spanish food while we were out hiking. My husband, Rocky, who is far more interested in cooking than in doing yoga, asked if he could be Juan Carlos' sous chef or assistant, to which Juan Carlos responded,  "Only one man allowed in the kitchen at a time!"
On the final day of each retreat, Juan Carlos  prepared Paella de Mariscos, a traditional rice dish with seafood. Every bite could make you weep because it was so delicious.
While I only dream of Asturias occasionally now, I am still transported to our extraordinary time together every time I look at our photos. When we first returned from the trip, Rocky invited his Mom over to look at our photos. After two hours she said she had to go…apparently we took a few too many!
When we finally met Judy, it was on a part of the Camino near Burgos where she was hosting a picnic lunch for her group. She taught us the saying that is commonly used on the pilgrimages to Santiago de Compestela to encourage each other on the way: "Buen Camino!'  Literally meaning, "good path, " this greeting is considered a prayer or blessing for a good life as well as a good journey.
Buen Camino, my Friends.