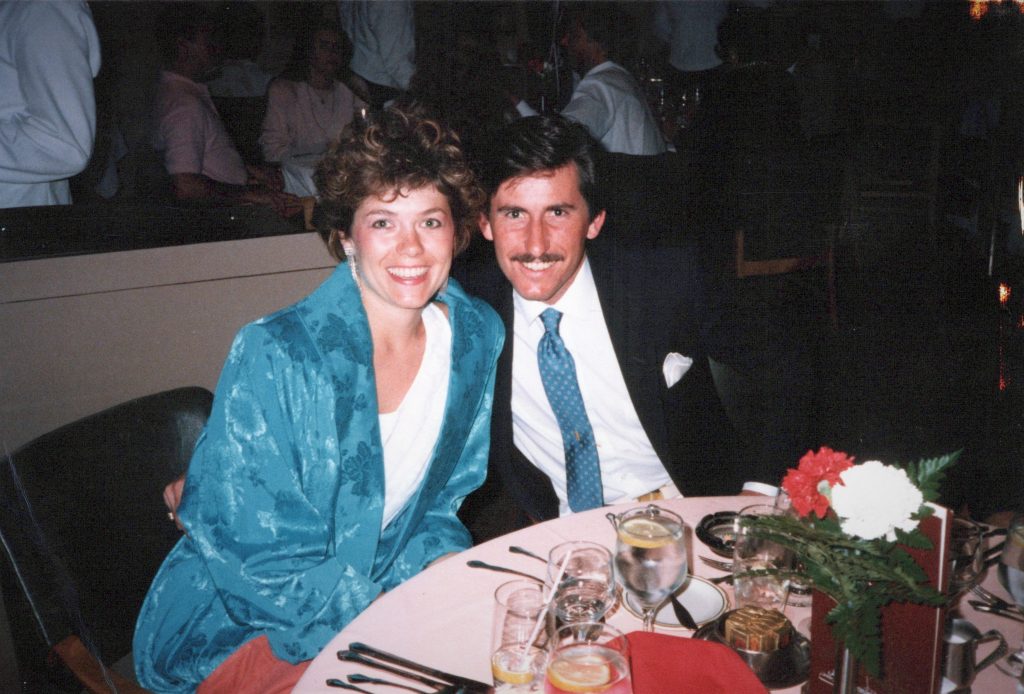 The first time I saw the man who would become my husband, life partner and the father of my children, he was walking down the mall with my boss, Ed.
I was a salesperson in a fine jewelry store in Southern California and along with my co-workers, was leaning against the back counter of the store giggling and quietly humming the tune to the Sylvester Stallone movie: Rocky. We'd been prepped that morning that some hot shot sales rep named Rocky had been hired and was on his way to the store. None of us were keen on introducing more competition to the already competitive sales floor, especially not someone who looked like this guy: clean cut, dressed to impress and looking like he already owned the place.
Working on commission in a store that specialized in large, high-quality GIA certified loose diamonds, engagement rings and wedding rings required that you look the part. The last thing I wanted my customers to know was that I shared a studio apartment in the Wilshire district of LA with my gay roommate, Muffin, and about a hundred cock roaches.
I had invested in a few nice suits and one pair of less than comfortable heels, and usually wore my Grandma's pearl necklace and a simple pair of 14K gold earrings to work. My ensemble worked well enough. That day though, Rocky showed up wearing a very fine quality suit, a gorgeous red power tie, a matching pocket square and highly polished shoes. Even his socks matched his tie. All of us felt instantly under dressed.
Luckily for us, Rocky turned out to be not only a good sales person but a funny guy. There were often long stretches of time during the day as we waited for customers to come into the store. We were supposed to polish the jewelry, clean the windows and the counters and stay busy. We could do all of that we found, and still joke and talk and give each other trouble to keep from getting bored. When I went on a lunch break in the back storeroom and one of my customers entered the store asking for me, Rocky would tell them very sincerely, "Oh I'm so sorry but Jeni no longer works here. Perhaps I could help you find something special?" Of course that made for some very awkward moments when I came back from my break. Instead of being angry, I just laughed and tried to think of a clever revenge.
One of my favorite pay-backs involved a customer named Mrs. Rocky. She stopped by a couple months after Rocky started working with us. The other sales people and I insisted that he wait on Mrs. Rocky since they shared a name. Naturally he couldn't refuse without making a scene and making Mrs. Rocky feel bad so he offered his help.
Unbeknownst to him, old Mrs. Rocky was well-known to us because she would come in every four months to get her jewelry cleaned. She never bought anything but took up a lot of time with whoever had to wait on her. In between visits, she would not clean or remove her large diamond earrings so they were quite crusty and disgusting to have to pry out of her ears and clean. Rocky maintained his professionalism and charmed Mrs. Rocky with his best customer service while the rest of us snickered uncontrollably, relieved not to be waiting on her.
The next day, a big bouquet of pink carnations arrived at our store for Rocky with a sweet thank-you note from old Mrs. Rocky. Of course we all gave "the new guy" a hard time about it and told him he had to call and thank her. It was the right thing to do after all. When he called her she said she had really appreciated his service but that she had not sent any flowers. That's when Rocky noticed the rest of us doubled over laughing over my best revenge yet.
After months of joking around, Rocky and I became more than co-workers, although we remained competitive in a fun way. We spent another ten years working in the jewelry business but had to work in separate stores once we became involved.
Rocky never lost his sense of style and even helped me upgrade my own look. When I won a cruise for two on the "Love Boat" for a company sales contest, Rocky bought me a gorgeous turquoise pant suit to match the same colored tie and socks he was wearing for our one fancy night on the boat. He could even pick out new shoes for me without me being with him. He made me feel like Cinderella dressed for the ball.
We've been married now for 33 years. Two weeks ago, we went to Goodwill for about the fourth time in a week as part of our current downsizing project. Our car was loaded with kitchen appliances that wouldn't fit in our tiny new kitchen, as well as clothes and outerwear that we aren't wearing anymore.
As we were driving away, Rocky said casually, "I just donated 35 years of my ties."
"All of them?" I said feeling shocked. "You kept your collection of Christmas ties, right?" He had enough ties to wear a different one to work every day from Thanksgiving till Christmas, a sort of advent calendar of ties.
"Nope. I didn't keep any of those."
"You kept a few nice ones though, right? " I said feeling suddenly nostalgic.
"I never wear them anymore and I certainly won't need them when I finally retire."
"But your kids are graduating from college in a couple of months. And you still own a couple of nice suits don't you? "
Rocky shook his head and said simply, "Well, I didn't think of that. Maybe I shouldn't have gotten rid of all of them?" But he didn't go back. He just kept driving.
Since that day, I've been thinking wistfully about all of Rocky's ties. It's true that he rarely wears them these days and thankfully he hasn't had to wear a pocket square in a decade or longer. I had no idea I was attached to those ties until he gave them all away. Funny the memories that are "tied" up in the things we keep even after we are no longer using them. I haven't thought at all about giving away our dishes or selling our dining room table. Why do I care so much about a bag of silk ties?
I certainly know where we are going if Rocky decides he needs one after all! Apparently, they have a great collection of very fine silk ties at the Tacoma Goodwill.