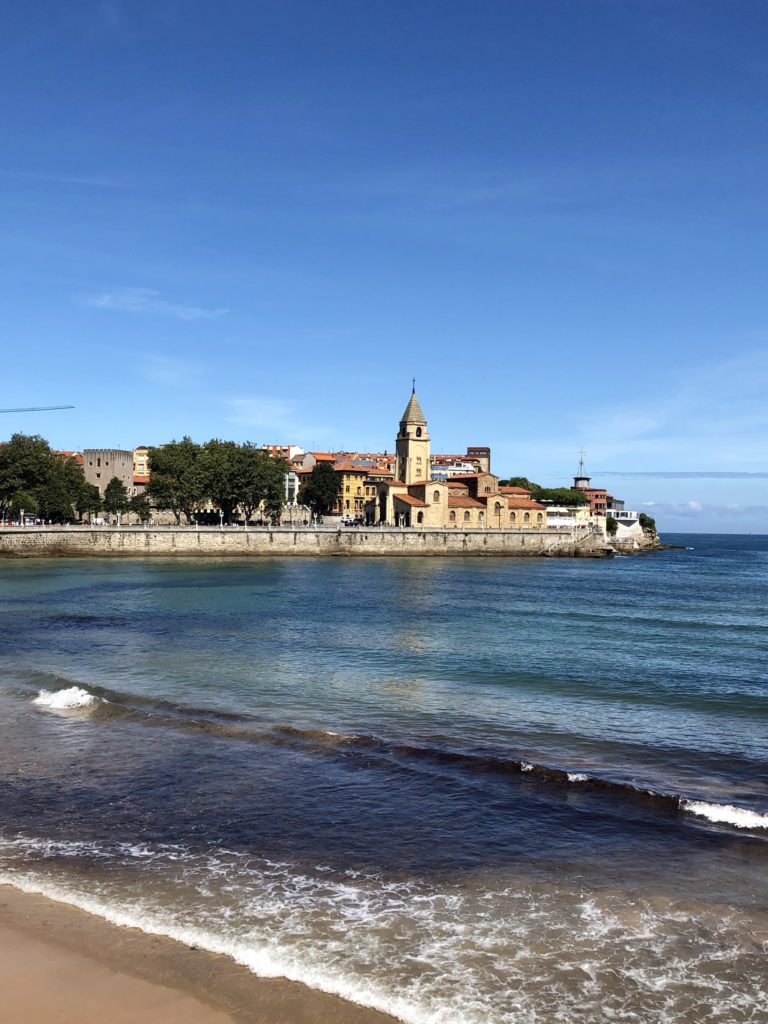 Starting January 1st, 2020, Rocky and I will begin a one year countdown to our move to Northern Spain.
While it may seem sudden to some of you, this is a plan we started working towards in September 2017. After hosting two back-to-back hiking and yoga retreats at Hotel Fuentes de Lucia in Faedo, Spain, Rocky and I spent two weeks exploring Gijon and San Sebastian on the northern coast of Spain, Haro in the wine country and Barcelona. Rocky who can claim at least 50 % Spanish DNA according to 23andMe, felt like he had found his people! He'd certainly found his favorite food and wine. But could we live there permanently?
The following October, we hosted an adventure yoga retreat to the Galapagos Islands in Ecuador. We fell in love with the islands who are home to giant tortoises, sea lions, pelicans, blue-footed boobies and iguanas. We followed it up with a visit to Cuenca, Ecuador, which boasts a large ex-pat community and met up with a friend of a friend who lives there to discuss life as an ex-pat in Ecuador. While we loved our trip, our hearts were being drawn back to northern Spain.
This summer, we returned to northern Spain to make sure we could really live there beyond just vacationing. After our fabulous hiking and yoga retreat based again at our favorite hotel in Faedo, we made our way to Gijon, on the northern coast of Spain to spend another week exploring, eating and checking out possible neighborhoods. Gijon exceeded our expectations!
One of the reasons we feel so comfortable there is because the topography of northern Spain and the weather are so similar to our beloved Pacific Northwest. Even the placement of Gijon on the Bay of Biscay, reminds us of where we live now on the waterfront in Tacoma. Add in the delicious Spanish food and wine and the fact that we can live there for a third of what we are spending right now, and our decision was made. Yes!
We downsized from our 5 bedroom home in March, 2018 to a 2 bedroom apartment. Next step is to downsize again in a month or two to a 1 bedroom apartment in our current building so that we can save for the move and start to let go of more stuff. Our goal is to get down to 5 or 6 suitcases total before we move! We will rent a furnished apartment once we get there. Realistically we are going to end up having a small storage unit here for our artwork that we can't bear to part with permanently, and a few sentimental Christmas ornaments.
To that end, we knew we had to enlist the help of our college-aged boys to help us start emptying our current storage units this weekend while they were home for Christmas. It was time to go through the boxes of their treasures we've been storing and either re-pack them to ship to their own places or to get rid of things. We needed something to get them out of bed early with a positive attitude. Cue the Waffles!
Rocky has always made the yummiest waffles with blueberry and raspberry syrup. They are super crisp on the outside and light as a feather inside and so scrumptious! Here is the recipe he adapted from www.recipezaar.com.
The Bestest Belgian Waffles
30 min/ 10 min prep. Makes 6-7 thick waffles.
2 Cups flour
4 teaspoons baking powder
1/2 teaspoon salt
1/4 C plus 2 tablespoons sugar
2 eggs, separated
1/2 Cup oil
2 Cups buttermilk
Sift the dry ingredients together in a larger bowl.
Separate the eggs.
In a small bowl, beat egg whites until stiff.
Mix together the egg yolks, buttermilk and oil and stir slightly.
Add to dry ingredients and mix well.
Fold in beaten egg whites.
Avoid removing them from waffle iron too soon; they should be a golden brown!
We fed the boys waffles and coffee and encouraged them to stay in their jammies. We brought them boxes from the storage unit which is located on our floor and they got to work. Cody actually said it was like having a second Christmas because they discovered things they had forgotten about. They worked together to find friends who might want some of the treasures they no longer needed, advertised some items that were worth selling and filled a donation box for Goodwill. We also went to the trash bin multiple times!
While they cleared out at least 20 boxes, Rocky and I cleaned out our own closets, food pantry and even the spice rack. While we didn't exactly follow Marie Kondo's practice of carefully folding and blessing every item, I did feel gratitude as I stuffed them all into a giant sized Hefty bag.
Rocky who has been compared to Santa for his love of Christmas, even let go of three boxes of Christmas decorations. I heard him muttering, "I can't take them to Spain!" By the time we were finished, the storage unit was more than half empty and our car was full of things for Goodwill. When we dropped off our donation, the young man who helped us empty the car commented on how much he loved a backpack we handed over. We left there not only excited about letting go of things we no longer needed but grinning at the unexpected enthusiasm of the kid who helped us. I was reminded that our no-longer-necessary things can make someone else happy.
This is just the beginning. We need to re-home appliances, dishes, furniture, more clothes, more Christmas decorations and much more over the next year. It's a bit daunting to think about but we'll work for waffles!